Luxury Is at Your Fingertips with the 2017 Kia Optima
June 20 2017, Applewood Kia Surrey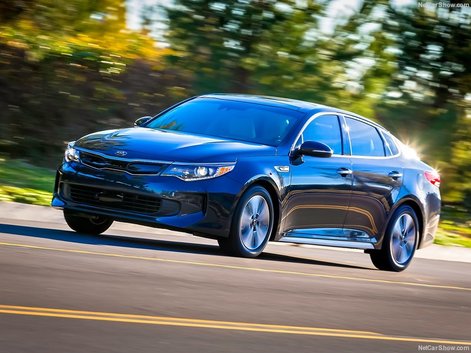 With the 2017 Kia Optima, expect to get a lot of features, refinement, and comfort for your money.
Even in its base LX version, available from $23,995, the 2017 Kia Optima is equipped with heated front seats and steering wheel, air conditioning and 18-inch alloy wheels.
And for those looking for more luxury, the new Optima is offered in a multitude of versions, some of which offer convenience usually reserved for much more expensive vehicles.
Examples? The 2017 Kia Optima can be equipped with an automatic emergency braking system, a 360-degree camera system, an infotainment system that includes Apple CarPlay and Android Auto in addition to a wireless charging for your cell phone.
Quite a Bit of Power Under the Hood for the 2017 Kia Optima
With a turbocharged engine available as an option, the 2017 Kia Optima is capable of performance that will leave you speechless. With 245 horsepower and 260 lb-ft of torque, the Optima's all-aluminum 2.0-liter four-cylinder engine is not for those who want to stay in the shadows.
Even the entry-level engine, a 2.4-liter four-cylinder engine, stands out in the power department with 185 horsepower and 178 lb-ft of torque. Fuel economy is just as impressive in the 2017 Kia Optima. Indeed, the 2017 Kia Optima has an average consumption rating of only 9.3 L/100 km in the city and 6.6 liters per 100 km on the highway.
A Hybrid Version for the 2017 Kia Optima
Kia understands that fuel economy is important to consumers, and that's why they made sure they improved the 2017 Kia Optima Hybrid model (pictured) when they redesigned their midsize sedan back in 2016.
A well-equipped 2017 Kia Optima Hybrid starts at just $29,995 and features a 2.0-liter four-cylinder engine that, coupled with a 38-kW electric motor, features a remarkable fuel economy rating of just 6.0 L/100 km in the city and 5.1 L/100 km on the road. Quite impressive for a vehicle that is as spacious and refined as the new Optima. Better yet, this improved fuel economy doesn't mean that the new hybrid is lacking in the power department. Indeed, the new Kia Optima Hybrid's engine provides 192 horsepower under your right foot.
To learn more about the 2017 Kia Optima, contact us today.